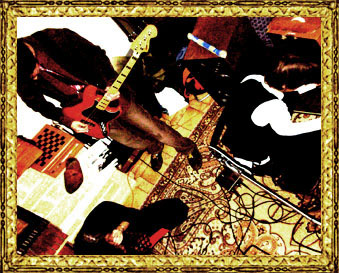 30.11.2008 - Live In The Air
My Feet In The Air, BFL, Jack and Duck Feeling play:
Les Pieds Dans La Neige
Tribou
Mushi Mushi
Captain Nick's Orange March
Mad Rabbit, Duck Feeling, Devil Sister and Fuzzy Weasel perform Rabbit's movies:
Femmes Crucifiées
Voodoo TV
Faster! Please!
See What You Hold
I Wanna Be Killed By A 66 Fuzz Distortion
Rabbit vs. Rabbit
I Hope I Die Before I Get Old
La Jalousie Rend Aveugle
Mensonge
Love Me Two Times
Renegade Princess
They play extended songs:
A Pig In My Harem
Antidote
They perform an extended Rabbit's movie once again:
Diffraction
...And finally they go cosmic!
Dark Star Blues (Acid Mothers Temple)